The ESG Forum
ESG is still a very contentious subject, with doubts raised around standards for reporting, ratings criteria, and costs to comply. Also if the efforts invested will actually achieve the results and benefits that are forecast. The  ESG forum aims to bring clarity and purpose to the myriad of mixed messages around ESG, by bringing together a broad church of practitioners, from Company Secretaries of Issuers through to Investing Institutions, Retail Brokers and Regulators.
A draft Terms of Reference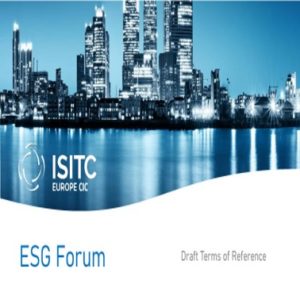 has been crafted for Forum members to review and revise as and when necessary.
---
ESG Forum Co-Chairs:
Mike McPolin, Managing Director, Market Advocacy & Business Change, Broadridge Financial Solutions
Michael has over 25 years' experience in the Securities Services industry having undertaken a number of senior roles across Product, Operations and Business Management with HSBC Securities Services, before moving to JPMorgan in 2011 where he again undertook a number of senior roles including; Country Manager for UK and Ireland, Head of Global Custody Product Management, Global Head of Asset Servicing Product and Product Development. He was a Senior Industry Consultant before joining Broadridge in November 2020. Michael has responsibility for Market Advocacy & Business Change within Broadridge Investor Communication Solutions, which requires him to work with customers and a spectrum of industry bodies and participants to drive innovation, efficiency, harmonisation and interoperability in the investor communication world. He has a BSc (Hons) degree in Financial Services and is an associate of the Chartered Institute of Bankers (ACIB).
Paul Nolan, Director, Business Change, Broadridge
With 25 years' experience in asset servicing Paul has a successful track record in leading, developing and managing multiple size teams and products within high risk, deadline driven areas of the business. He has a strong emphasis on client experience, risk mitigation and process improvement. Paul joined Broadridge in April as a director of Business Change from Saxo Bank where he was Global Head Of Asset Services.
---
Get involved in the ESG Forum
The ESG Forum invites participation and discussion between individuals who have an interest in ESG. Forum meetings are usually held monthly, with occasional ad hoc meetings when required. The forum will aim to deliver education, communication, and information for the advancement of member firms.
Outcomes from these Forum discussions will only be made available to  ISITC EUROPE members.
If you are interested in getting involved within the Forum and are already a corporate/ individual member or associate member of ISITC EUROPE then please contact: admin@isitc-europe.com
If you are not a member of ISITC EUROPE you are welcome to apply for membership.
The ISITC Europe ESG Forum Sponsored by Broadridge