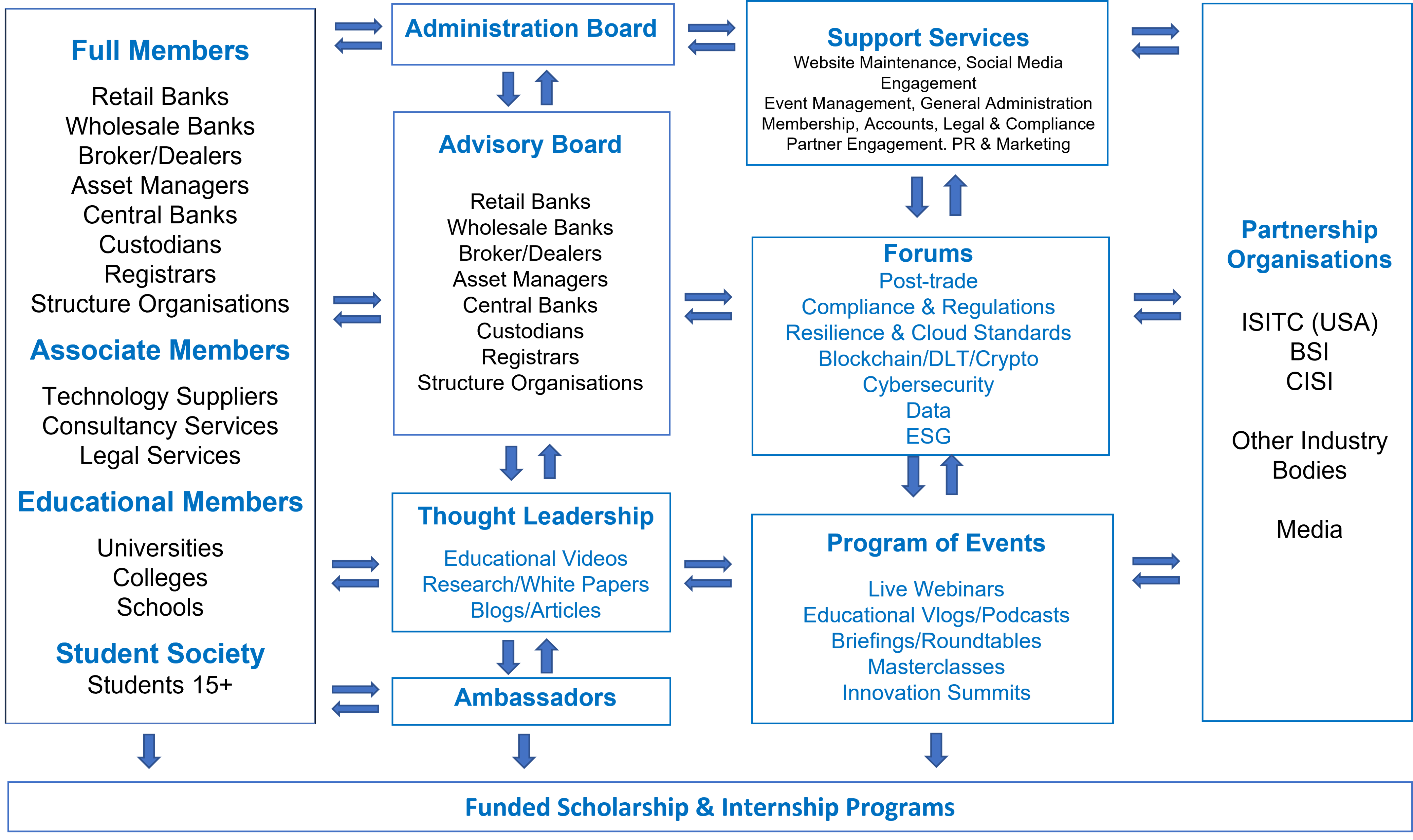 ISITC EUROPE Governance
ISITC EUROPE CIC is a uk registered regulated Community Interest Company. It has a cross industry membership, from different Financial Services Organisations. Governance is administered by an Executive Administration Board. The Administration Board takes direction from the Advisory Board.
The Advisory Board is made up by invited Senior Industry Professionals, from all types of financial structure organisations, including; Wholesale and Retail Banks, Custodians, Stock Exchanges, Brokerages, Asset Managers, Registrars, CSDs and Central Banks.
ISITC EUROPE is not a lobbying organisation. It collaborates with its members and other membership bodies like the Chartered Institute of Securities and Investment (CISI) and The Association for Financial Markets in Europe (AFME)
ISITC EUROPE fully supports equality,diversity, inclusion and wellbeing.
One of the core goals of ISITC EUROPE is to promote Environmental and Social Governance (ESG) via events and publications, for its members and the wider community.
Innovation
In addition, ISITC EUROPE champions, Innovation in Fintech and Regtech, to help build a more efficient and sustainable market for society. ISITC EUROPE Associate Member firms play an important part in facilitating the sharing of the latest technical developments in these areas to the ISITC EUROPE community.
It has formed a number of working groups, these are currently focusing on: Distributed Ledger Technology (DLT)/Blockchain, AI, Cybersecurity, Data Management and Cloud Standards.
Education
Education is a key goal for ISITC EUROPE. Not only for those currently working in the financial markets today, but to provide opportunities and educate those still in schools,  colleges and universities, through a series of initiatives. ISITC EUROPE  aims to provide a bridge between the financial community and schools, colleges and universities. To fund research, which will provide value to both students and our professional members. But more importantly to offer scholarships & internships, for those students from poorer neighbourhoods, who would not otherwise get a chance of entering the financial services industry.
Executive Administration Board
Tony Freeman – Director of Policy
Dr. Anthony Gandy – Director of Academic Research, ISITC Europe CIC and Visiting Professor at the London Institute of Banking and Finance
John Gavin – Director of Market Relations
Rob Scott –Director and Advisory Board Member
Gary Wright – Director of Industry Affairs
Cathy Wright – Company Secretary
Website Technical Administration
Rob Morel