Tuesday 14th July, 3.00pm – 4.00pm
 An ISITC EUROPE / CISI professional learning and discussion webinar
About
The ability of cyber threats to compromise information systems is an ongoing danger to all organisations, however  an emerging threat presents a new challenge, cyber-attacks that may cause physical harm to systems with the potential to kill the business.
Financial services are among the most attractive targets for cyber attackers and most industry reports rank it as the premier industry risk. Adversaries offering their customisable malware strains or services-for-hire on the dark web are contributing to a rise in the adoption of more modern Tactics, Techniques, and Procedures (TTPs) by attackers. 
Despite these acute threats Cyber Security in the main remains a black art with those who lead, manage and operate the business delegating either internally to a select few IT security specialists or contracting with an external Cyber Security as a Service (CSaaS) provider. As with other strategic risks this is an area that the board and management team need to have an adequate understanding of. Ignorance is no defence. This session can help.  
Speakers 

Jeremy Samide is a highly-sought after, global cybersecurity expert and speaker in the areas of cyber threat intelligence, next-generation security threats and cyber risk for governments, insurance, financial, healthcare, retail and legal vertical markets as well as family offices. As a trusted cybersecurity expert, Jeremy leverages his 18 years in cybersecurity supporting clandestine operations for the US Intelligence, Department of Défense, Federal Law Enforcement, allied foreign governments as well as the private sector advising organizations around the world on how to protect themselves.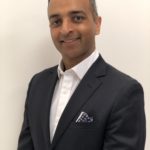 Aman Sood has over twenty years' experience working within Infrastructure Technology and Cyber Security focused roles. Aman has held senior leadership positions within Financial Services, running teams and building programmes within highly regulated organisations, such as Wadhwani Asset Mgt., Caxton Associates, and Barclays Capital.
… 
Please register for the event using the link below:
Death by cyber attack registration >>>
Login will be open from 11.55am. Please feel free to self-provision luncheon. 
Posted on